At Birdhurst Nursery, we believe it is important to offer high quality care by understanding that your children's happiness and safety are paramount. We believe the first five years of a child's life lay the foundations for their future. It is our promise to you as parents to give your child the greatest opportunity for them to fulfil their potential in a learning environment that is comfortable, safe and healthy.
We have separate, age-specific rooms for the different ages groups as listed below. Split over 2 floors, with the younger children on the top floor and the older on the ground floor. We also have separate rooms for dining and sleeping on the top floor.
Our Puffins room (the baby room) is dedicated to children aged 3 – 12 months.
Babies explore the world with all their senses. Our curriculum includes activities that encourage the babies exploratory and playful impulses and emotions. Our baby room features all-floor activities including role play, circle time and messy play. We encourage our babies to explore, gain confidence and participate in a wide range of fun activities.
Our staff to child ratio for this age group is 1:3.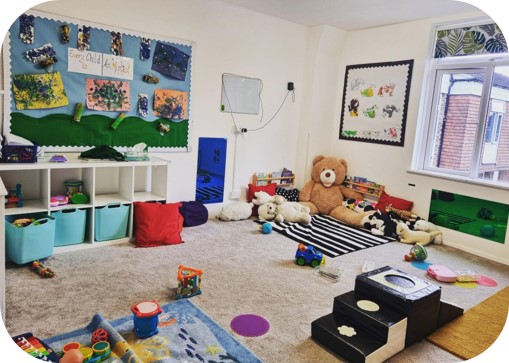 As soon as the children are on their feet and ready to go exploring they move up to our seals' room. This is one of two of our toddlers' rooms dedicated to children aged 18 months – 2 years. In this age group, children begin to focus on developing friendships, sharing ideas and working together. The seals' room features a wide range of toys and resources dedicated to their stage of development. With easy access to the toilet upstairs, they are supported with potty training.
Our staff to child ratio for this age group is 1:3.
Sealions is our 2nd toddler room dedicated to children aged 2 – 3 years. Here, we continue to fine tune the work we started in the previous room. With easy access to the toilet, we continue to support them with potty training. The children are full energy at this stage. We encourage your child to be as independent as possible. This seals' room like all the other rooms, feature a wide range of toys and resources dedicated to their stage of development.
Our staff to child ratio for this age group is 1:4.
Polar Bears are our preschool children aged between 3-5 years. Activities for this age group continue to support all key areas of learning as part of the preparation of the children for the transition into school life. We promote a fun, relaxed way of learning, children are encouraged to use their imagination, build friendships, be independent, co-operative and learn to share. Polar Bears room features various dedicated areas of learning, where they can be playful and creative. We have a home corner, reading corner, numeracy corner, literacy area and an arts and crafts corner. Our older children have access to our lending library with a selection of reading books which they take home.  
Our staff to child ratio for Polar Bears is 1:8.
All our nursery children make use of the sensory room. This is a space designed as a calming environment for all ages, equipped with a range of stimuli to explore sight, sound and touch to encourage development. It features a sensory bubble tube, sensory interactive liquid floor tiles, mood tables, and soft play resources and much more.
We are very fortunate to have a spacious secure outdoor area. Our garden is safe and well-equipped, including a trampoline, sandpit, plant area, climbing frames, cycle path, pirate ship, picnic area, forest school area and other smaller equipment to keep them busy.
All of our children have the opportunity to play and learn outside every day, all year round no matter the weather!
See what a typical day at Birdhurst Nursery looks like